SRI LANKA TRAVEL GUIDE.COM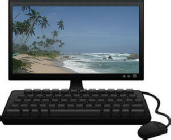 SRILANKATRAVELGUIDE.COM
This page was last updated on: February 28, 2021
If you have any comments or suggestions regarding this web site, please contact us at support@srilankatravelguide.com
Copyright 2001 - 2021 Atlantis Group Ltd.











Negombo is a beautiful beach resort on the western coast of Sri Lanka, just a short drive north of Columbo.
As it is also very close to the airport, Negombo is a convenient place to either begin or end your trip to Sri Lanka.
You can relax on beautiful beaches, view incredible sunsets and enjoy western and Sri Lankan food. Sea food is very popular and is caught fresh daily by Negombo fishermen.
In earlier times, Negombo was ruled by the Portugese, Dutch, and the British.
You can see evidence of the influence of these colonial rulers in many places, such as the beautiful canals built by the Dutch and the churches built by the Portugese.
Be sure to take some time and walk, or ride a bike, through Negombo and see all the interesting sites!