SRI LANKA TRAVEL GUIDE.COM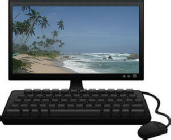 SRILANKATRAVELGUIDE.COM
This page was last updated on: October 28, 2018
If you have any comments or suggestions regarding this web site, please contact us at support@srilankatravelguide.com
Copyright 2001 - 2018 Atlantis Group Ltd.











Mount Lavinia is a beach town just outside of Colombo.
Home to the classic Mount Lavinia Hotel, where you can stay, have a meal or relax by the pool.
Very popular on weekends, especially on Sundays, this beach is a nice place to relax, go for a swim or have fun with friends.
There are several beachfront restaurants and bars where you can dine or have a drink.
MOUNT LAVINIA RESTAURANTS