SRI LANKA TRAVEL GUIDE.COM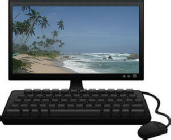 SRILANKATRAVELGUIDE.COM
This page was last updated on: November 19, 2014
If you have any comments or suggestions regarding this web site, please contact us at support@srilankatravelguide.com
Copyright 2001 - 2014 Atlantis Group Ltd.











Located just a few hours from Colombo on the southern coast of Sri Lanka, Galle is a charming city known for its fort and old, colonial buildings.
Formerly a trading post of the Portuguese, Dutch and British, visitors can admire the architecture of its buildings and stroll along the walls of its fort.
Tourists can also visit several noteworthy churches, mosques and temples, as well shop at several boutique stores.
And, just south of Galle, there are several spectacular beach communities offering tourists a tropical paradise!