SRI LANKA TRAVEL GUIDE.COM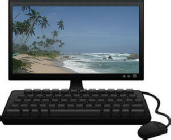 SRILANKATRAVELGUIDE.COM
This page was last updated on: December 15, 2014
If you have any comments or suggestions regarding this web site, please contact us at support@srilankatravelguide.com
Copyright 2001 - 2014 Atlantis Group Ltd.








HILTON COLOMBO
Very modern, deluxe hotel with 387 air conditioned rooms conveniently located near Galle Face Green, the Dutch Hospital Complex and the World Trade Center. Hotel has fantastic views of the sea and has several gourmet restaurants offering international cuisine.
2 Sir Chittappalam A. Gardiner Mawatha, Colombo 2
CLICK FOR MORE INFORMATION




THE KINGSBURY
Newly restored luxury hotel offering classic architecture, several gourmet restaurants and stunning ocean views. Located at the north end of Galle Face Green and close to the Dutch Hospital Complex.
48 Janadhipathi Mawatha, Colombo 1
CLICK FOR MORE INFORMATION

RENUKA CITY HOTEL
Nice, newly renovated hotel offering comfortable rooms and friendly, professional service. Hotel has a swimming pool, gym and an excellent restaurant offering Sri Lankan and international cuisine.
328, Galle Road, Colombo 3
CLICK FOR MORE INFORMATION